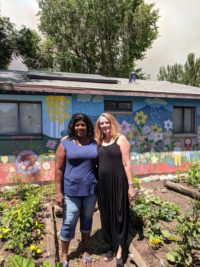 The people who are behind this inspiring project: Coral Evans, MBA, and Lisa Hardy, PhD
The creators of the Sunnyside Longevity Project work to bring to light the lack of health equity and social justice among residents in Flagstaff, Arizona's Sunnyside neighborhood. Their approach uses compiled data and actual stories from people that have been impacted by health inequality. Connecting data to life scenarios is a vital component of their process. Through research and practice, they flip the narrative that only people with educational and economic means hold the tools to lead healthy lives. People from all different backgrounds know what they need in order to be healthy, but for many reasons are not able to achieve optimum health. The Sunnyside Longevity Project believes in sharing resources to challenge assumptions about knowledge and power because they believe that Health is a Human Right.
The Project Neighborhood:
Sunnyside is Flagstaff's most diverse neighborhood and extremely challenged when it comes to economic status. Ten percent of Flagstaff'
s overall population lives in Sunnyside. Flagstaff itself is also a border town, located near tribal lands which are home to many part-time Flagstaff residents. Sunnyside has a total 1,766 households, and according to Census 2010, almost half (46.7%) of residents live in extreme poverty. Over 50 percent of the households in 
the neighborhood are single-parent households.  Thirty-one percent of the neighborhood's population is 17 years old or younger and 72% of neighborhood children ages of 5-17 live in poverty (Census 2010). In Sunnyside, 68% of housing units are rental properties and 59% of households pay 50% or more of their household income on rent. According to ACS, almost one-fourth (24.9%) of households in Sunnyside are linguistically isolated. According to the Census 2010 45% of the residents in Sunnyside identify with being Hispanic or Latino, 29% are Native American, 4.5% of the people who live in the neighborhood are of two races and 2% are Black.  All of these numbers are very significant due to the fact that they are the highest in the city.
The Project:
The project is a process of community-engaged research and practice through a number of years and numerous projects (some singular and some completed in partnership) including; the Sunnyside Weed & Seed (Phases I & II), the Hermosa Vida Project, The Sunnyside Market of Dreams Entrepreneurial Project, the Sunnyside Food Assessment, and the A League of Neighborhoods Strategy Project. During these projects, community members work with researchers in order to learn how to collect and analyze data to find a common theme. Some
themes include local experts, a desire for health education by trusted insiders, a lack of financial resources for training (leading to lack of accessible training opportunities), a need for expanding provider knowledge (specifically MDs) and a community relationship with the Sunnyside Neighborhood Association.
The 3 Parts of the Project are:
Appropriate Health Related Workshops for Community Members
Provider Training Sessions
Home Visits
Broadly, Coral Evans and Lisa Hardy work hard to make sure that community members have access to tools and resources to join the larger conversation. They have built a ripple effect of benefits that have made the community stronger. They were selected as the 2018 RWJF-CCPH Award for Health Equity Honorable Mention because of how they have fostered community engagement (including elected officials) throughout the process of connecting the dots between data and life application. Their exceptional project gave special attention to equity and structural determinants of health — a value aligned with RWJF's and CCPH's missions.
How to connect with them:
Via Email: Coral Evans, MBA & Lisa Hardy, PhD
Websites & Facebook: Sunnyside Longevity Project, Sunnyside Flagstaff, Market of Dreams, Lisa Hardy – Anthropology
To learning more, watch their presentation video (Start at 48:00)