Amongst a pool of incredible applicants highlighting partnerships between community and institutions all working toward health equity amidst a syn-demic of COVID-19, racism and economic collapse, we are pleased to announce our 2020 RWJF-CCPH Award for Health Equity Winners:
Ilima Ho Lastimosa, MSW MoA and Dr. Jane Chung-Do, co-founders of the Waimānalo Pono Research Hui!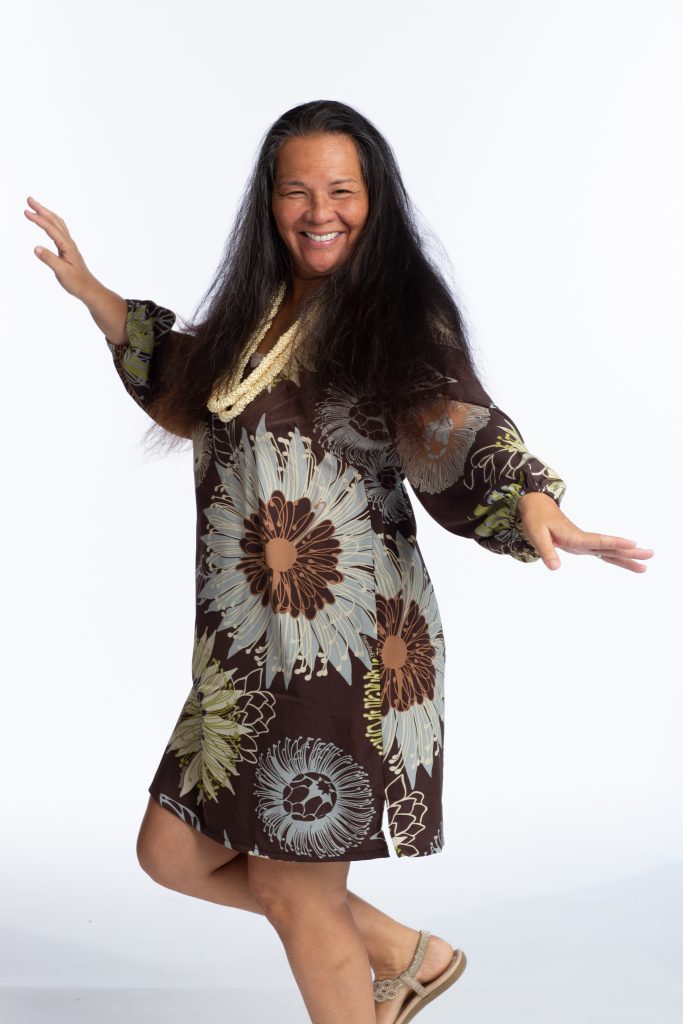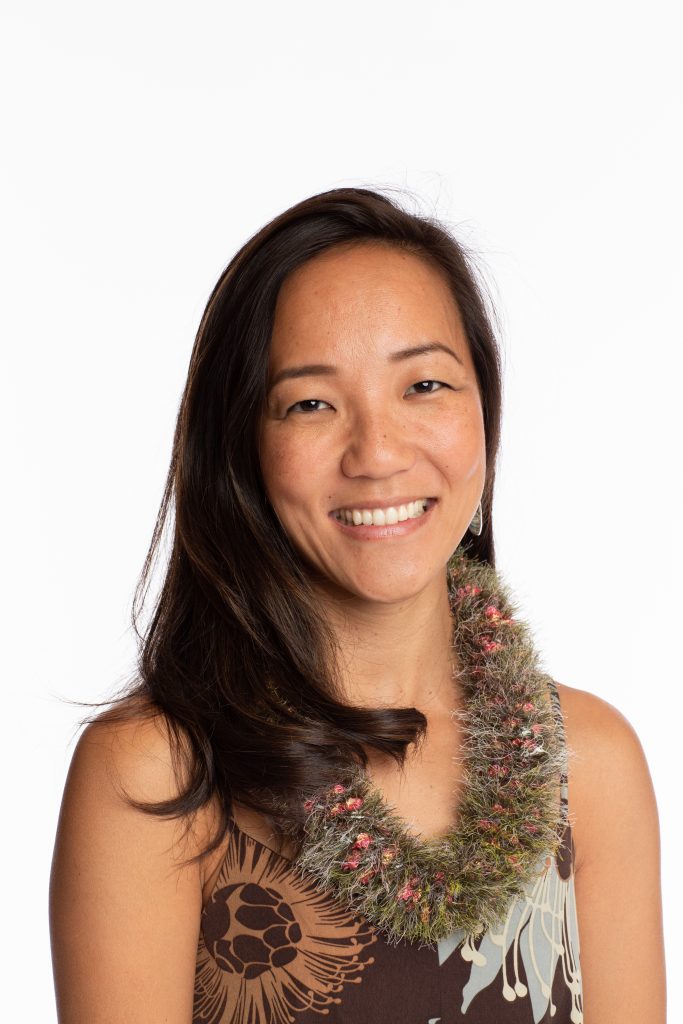 "We believe that to restore the health of Native Hawaiians, community leaders, cultural practitioners, and researchers are calling for interventions that revitalize cultural practices and identity, and recognize the impacts of historical trauma and the existing strengths and resilience of the community."
About the Waimānalo Pono Research Hui (WPRH)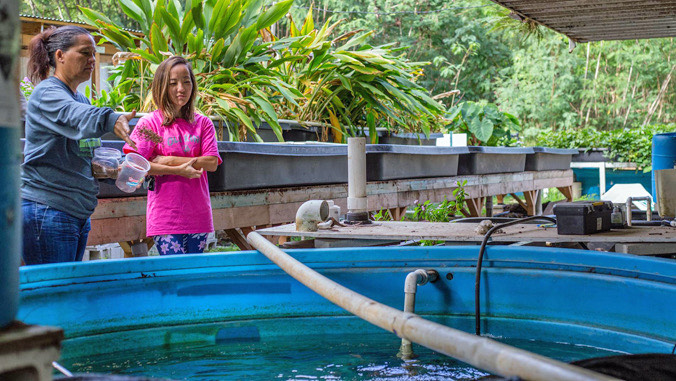 The Waimānalo Pono Research Hui (WPRH) is a community and academic partnership made up of over 50 community members and academic researchers who are committed to collaborate and work toward a healthier Waimānalo through education, aloha ʻāina (love of the land), and honoring and transferring ʻike (knowledge) and values of our kūpuna (elders) to our keiki (children) through pono (just, balance, equity) research principles. The WPRH was founded by a community partner, Ilima Ho-Lastimosa, who is a recognized community leader and Native Hawaiian cultural practitioner, and Jane Chung-Do, who is a Public Health professor and a community-based participatory researcher. WPRH is one of the many seeds that sprouted from their 14-year friendship through their love and commitment to the Waimānalo community. The WPRH serves as a safe space for community members and CBPR researchers to build relationships and initiate research and programs that are culturally-grounded and community driven. The WPRH supports multiple community initiatives that promote health equity and a culture of health that centers community voice and knowledge.
Partners in the WPRH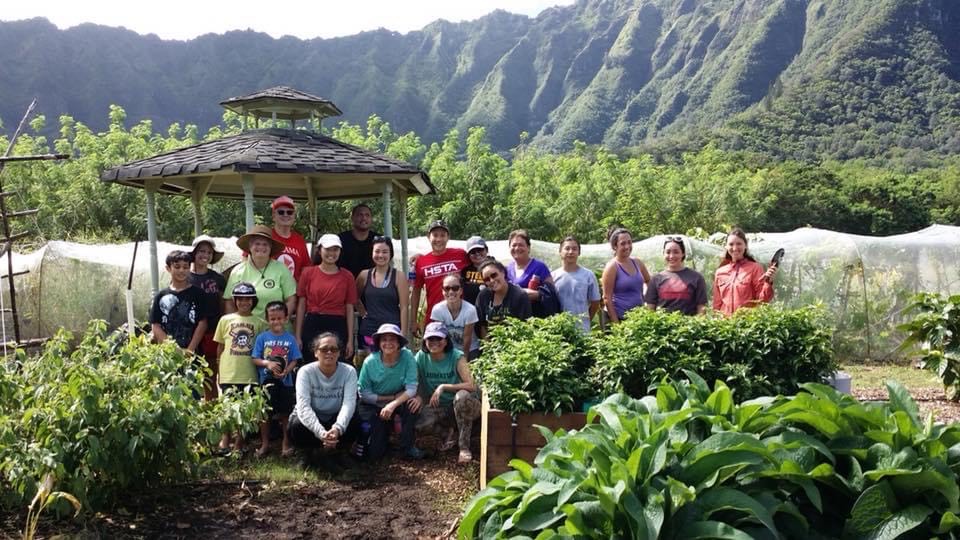 University of Hawaiʻi at Mānoa Office of Public Health Studies offers public health degrees including the bachelor of arts (BA), master of public health (MPH), master of science (MS) in public health, and doctor of philosophy (PhD) with a mission to advance the health of the peoples of Hawai'i, the nation, and the Asia-Pacific region through knowledge, discovery, innovation, engagement, inclusion, and leadership.
Ke Kula Nui O Waimānalo (KKNOW) is a grassroots community-based non-profit 501(c)3 organization with a mission is to provide a community of practice through collaboration of Kanaka to promote strong and healthy ahupuaʻa, from the mountain to the sea.
The Waimānalo Learning Center was established by the University of Hawai'i College Tropical Agriculture and Human Resources in 2012 to increase community engagement to increase awareness of their agricultural research activities and support ʻāina-based education of keiki (children) and their ʻohana (families).
Waimānalo Limu Hui is a community-driven group with the goal of bringing back limu to the shores of Waimānalo. The kūpuna recalled abundant limu found in Waimānaloʻs beaches, which have greatly decreased today. Because limu plays an important role in Native Hawaiian culture in terms of diet and lāʻau lapaʻau, the Limu Hui holds regular limu planting days on Waimānaloʻs shores. The Waimānalo Limu Hui has been supported by the Castle Foundation.
MALAMA (Mini Ahupuaʻa for Lifestyle and Meaʻai through Aquaponics) is a community-based participatory research study that innovatively merges the modern technology of aquaponics with traditional Native Hawaiian practices by building aquaponics system in families' backyards to provide constant access to fresh fruits, vegetables, and fish.
Kamehameha Schools is a private charitable educational trust endowed by the will of Hawaiian princess Bernice Pauahi Bishop (1831-1884), the great-granddaughter and last direct descendant of King Kamehameha The mission of Kamehameha Schools is to improve the capability and well-being of Hawaiians through education. We achieve our mission by operating an educational system serving over 6,900 students of Hawaiian ancestry at K-12 campuses on O'ahu, Maui and Hawai'i island, and at 30 preschool sites statewide.
Ways in which the WPRH responded to the COVID-19 Pandemic: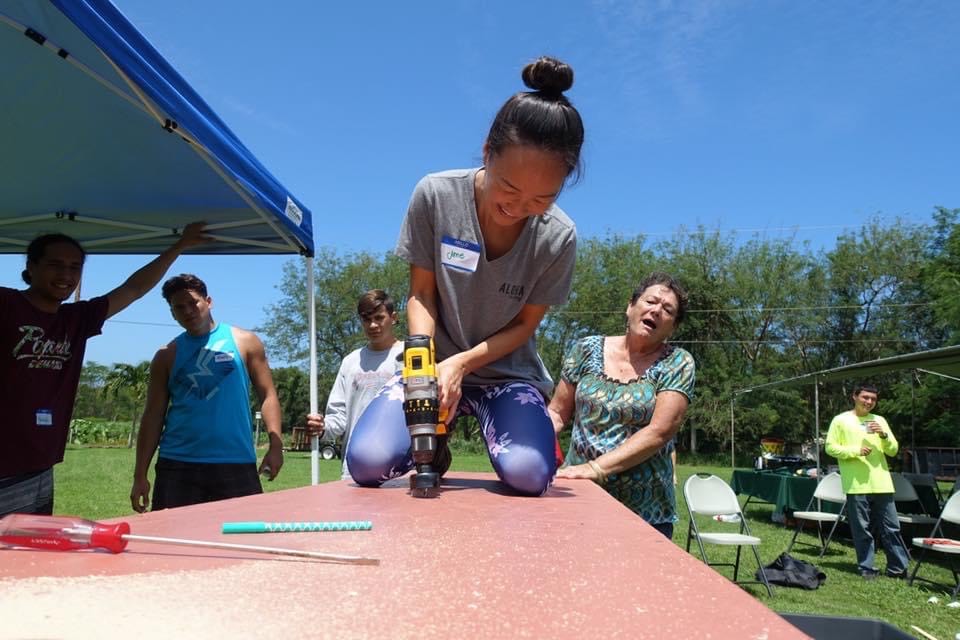 To meet the immediate needs of food insecure community members, families, elderly, and the houseless community, we partnered with numerous organizations from multiple sectors including nonprofit and for profit businesses, and governmental agencies to provide prepared meals and fresh produce. Since mid-March, 24,000 prepared healthy meals and 3,550 fresh produce boxes (milk, eggs, bread, etc.) as well as seeds and plant starters (especially Hawaiian traditional staples like kalo (taro), ʻuala (sweet potato) have been distributed to over 6,500 Waimānalo families and community members who are vulnerable to food insecurity, economic instability, and other social challenges. Partners included KUPU Hawaiʻi, Aloha Harvest, coordinated the delivery of the meals to the food distribution site in Waimānalo with ReUse Hawai'i, Communities by Altres, the philanthropy arm of Simplicity by Altres, Ham Produce & Seafood, Waimānalo Learning Center, and The Department of Hawaiian Homelands.
The meals were distributed Monday to Friday over 14 weeks from late-March to end of June through the efforts of long-time volunteers and program participants of KKNOW, as well as other volunteers from Hawaiian Civic Club of Waimānalo, 808 Cleanups, O'ahu Hawaiian Canoe Racing Association, and Windward Community College Trio, totaling 1,507 volunteer hours. Safety Systems & Signs Hawaii, a local business that deals in safety products and services, donated personal protection equipment, including gloves and masks, and safety equipment, such as traffic cones and signage, for the volunteers. Financial support for these efforts came from Hawaiʻi Community Foundation, Hawaiʻi People's Fund, NDN Collective, First Nations Development Institute, Harold K.L. Castle Foundation, Community Change Leadership Network of Robert Wood Johnson Foundation, and Papa Ola Lōkahi.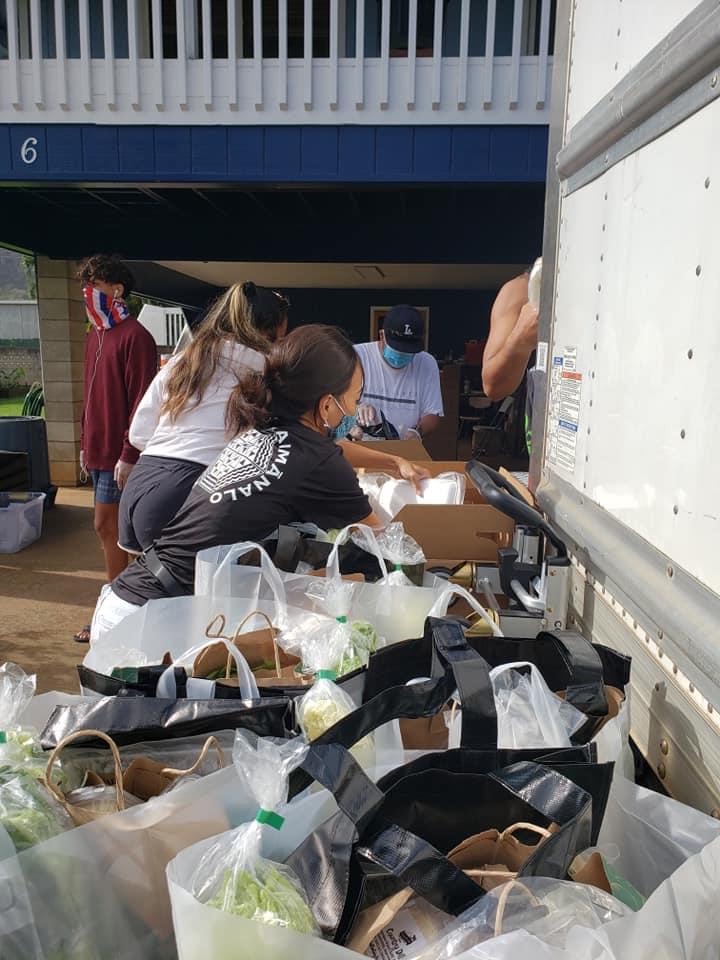 In addition to meeting the immediate needs of the community, we wanted to build community resilience by teaching Native Hawaiians how to grow their own food before another disaster or disruption strikes. Funding was acquired to build permanent areas of food sources in the community to encourage community members to learn a variety of ways of growing their own food, especially among vulnerable populations, such as the houseless community. To serve the houseless community, KKNOW worked with Hui Mahi'ai Aina, which is a part of the Waimānalo Kauhale, Inc. The Waimānalo Kauhale, Inc. is Hawai'i's first community-driven kauhale for chronically houseless members. The kauhale concept is a traditional, cultural model of housing consisting of tiny homes clusters and communal areas for restrooms, cooking, and gathering. Kauhale are meant to foster a sense of community and ownership among their formerly houseless residents. These master-planned communities consist of permanent, supportive housing units and a small amount of rent will be collected based on personal income. Through a partnership with Alu Like, KKNOW, and UH CTAHR, the WLC Community Coordinator and volunteers trained 8 Native Hawaiian ʻōpio (youth) leaders aged 14-24 years from Waimānalo in a variety of food production methods, including aquaponics, food forestry, fruit orchard, and banana circle. The ʻōpio leaders then implemented these food production methods at Hui Mahi'ai Aina with the residents and staff.
In addition, two large aquaponic systems (each with four 4'x8' grow beds and two 300-gallon fish tanks) were installed and are expected to produce at least 1000 lbs of produce and fish annually. Many community members are drawn to aquaponics technology because it mimics the Native Hawaiian traditional ahupua'a system (Beebe et al., 2020). By effectively combining hydroponics (soilless horticulture) and aquaculture (raising fish stock), families can grow fresh fruits, vegetables and fish in a contained, sustainable, food production system that uses a fraction of the water and nutrients of traditional terrestrial systems (Tokunaga et al., 2013). Compared to gardens, aquaponics vegetables and fruits mature in a shorter time span and require minimal maintenance with fewer demands on time and skills. The result is a largely self contained food production system that effectively illustrates the traditional natural resource management model of the ahupua'a. Aquaponics systems can be easily constructed on a small scale to provide families and communities a consistent source of staple Native Hawaiian foods in a system that models traditional natural resource management. Aquaponics is an innovative way to merge Native Hawaiian values, practices, and foods with modern agricultural technology. In addition to the efforts at the Waimānalo Kauhale, the MALAMA Aquaponics program also helped 10 Native Hawaiian families install backyard aquaponics systems at their respective homes.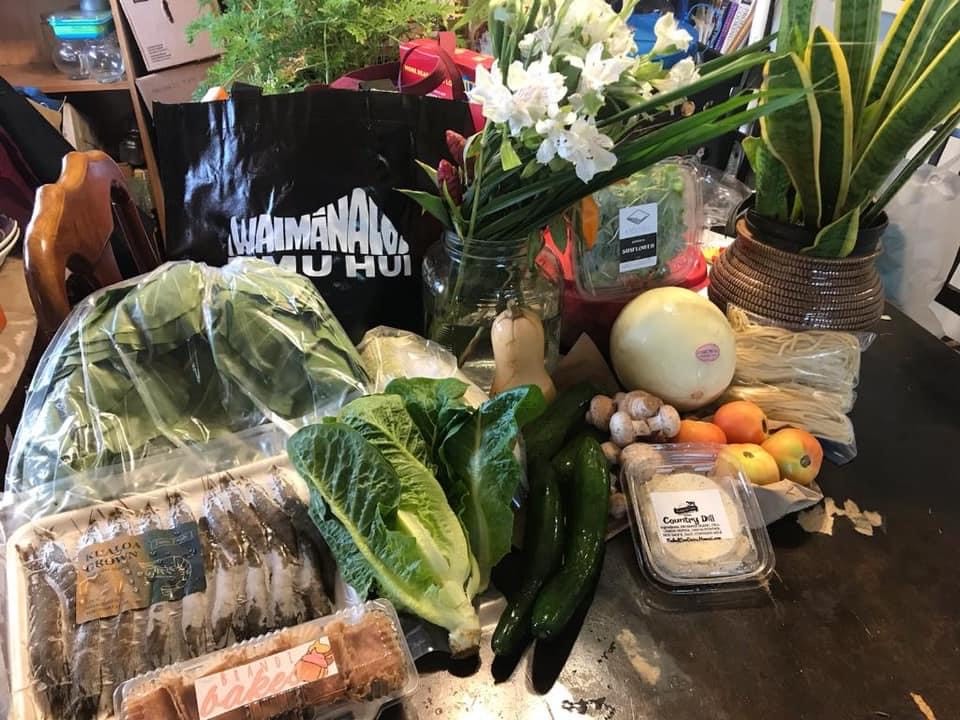 A food forest, fruit orchard, and a banana circle were created at the Waimānalo Kauhale to emphasize traditional staples. The food forest, which includes a variety of vegetables such as kalo, papaya, ʻulu (breadfruit), ʻuala, and beans, is expected to produce 500-1000lbs of food annually. A fruit orchard that includes lychee, orange, tangerine, coconut, and mountain apple trees will also be grown on site and is expected to produce 500-1000lbs of food per year. The banana circle will have native varieties of bananas as well as kalo, ʻuala, and other plants preferred by the Kauhale residents, and is expected to produce 700lbs of food. Before these food sources are built, residents of Kauhale will be surveyed to ask what types of fruits and vegetables they want to plant and eat.
We also obtained a grant from Honolulu City and County to work with local food producers and farmers to compile and distribute 165 CSA boxes to food insecure families every week from October-December 2020. All food in the CSA boxes come from Hawai'i. This effort not only supports families who have been negatively impacted by COVID, it also supports local business and farmers who are struggling to maintain their economic stability.
---
Below is a recording of the 2020 RWJF Award for Health Equity Celebration.
Fast forward to the Time Stamp 9:12 for our award winners.
The Robert Wood Johnson Foundation is working alongside others to build a Culture of Health providing everyone in America a fair and just opportunity for health and well-being. All who share this commitment are invited to join this movement. To learn more, visit rwjf.org/en/library/features/rwjf-award-for-health-equity.html
To learn more about the WPRH, visit their website.