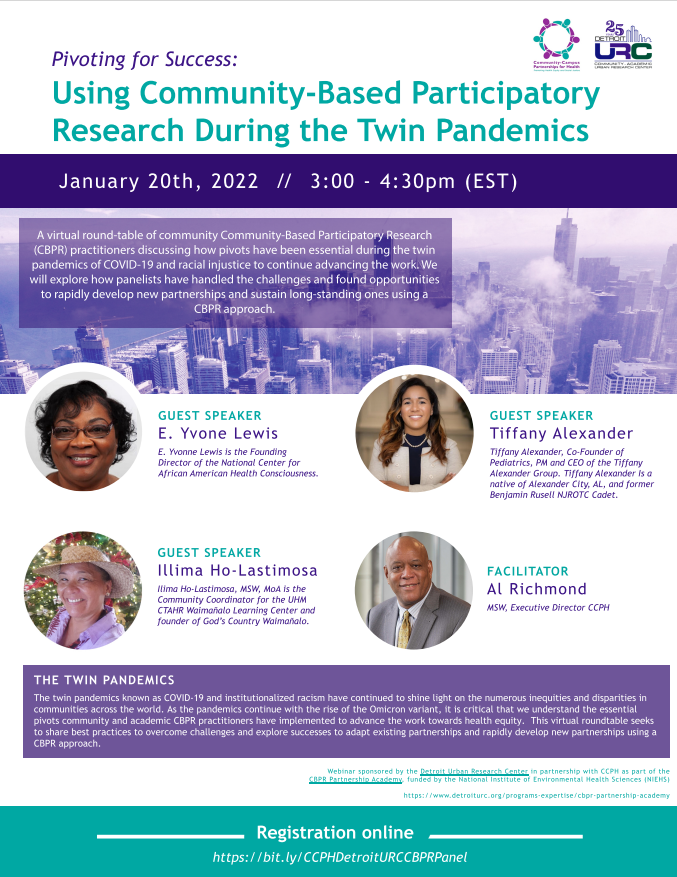 Join us for:
Pivoting for Success: Using Community-Based Participatory Research During the Twin Pandemics

Date & Time:
January 20th, 2022, 3:00p – 4:30p

Description:
A virtual round-table of community Community-Based Participatory Research (CBPR) practitioners discussing how pivots have been essential during the twin pandemics of COVID-19 and racial injustice to continue advancing the work. We will explore how panelists have handled the challenges and found opportunities to rapidly develop new partnerships and sustain long-standing ones using a CBPR approach.
The twin pandemics, known as COVID-19 and institutionalized racism, have continued to shine light on the numerous inequities and disparities in communities across the world. As the pandemics continue with the rise of the Omicron variant, it is critical that we understand the essential pivots community and academic CBPR practitioners have implemented to advance the work towards health equity. This virtual roundtable seeks to share best practices to overcome challenges and explore successes to rapidly develop new partnerships using a CBPR approach.
This webinar is facilitated by Al Richmond, MSW, Executive Director of Community-Campus Partnerships for Health (CCPH).

Featuring Guest Speakers:
-E. Yvonne Lewis, Founder/CEO National Center for African American Health Consciousness
–Ilima Ho-Lastimosa, MSW, MoA, Community Coordinator UHM CTAHR Waimānalo Learning Center and Founder of God's Country Waimānalo
-Tiffany Alexander, Co-Founder Pediatrics, PM and CEO of the Tiffany Alexander Group
Sponsored by the Detroit Urban Research Center in partnership with CCPH as part of the CBPR Partnership Academy. Funded by the National Institute of Environmental Health Sciences (NIEHS).
Below is the recording of the round table: